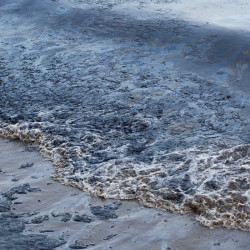 Plains All American Pipeline Oil Spill – One Month In
It is hard to believe it has already been one month since the Plains All American Pipeline leaked up to 140,000 gallons of crude oil onto our precious Gaviota Coast, closing once pristine state parks and so far killing a minimum of 280 marine mammals and seabirds. While EDC and others monitor the cleanup operations, we continue to raise questions about how this spill was allowed to happen, why the initial response was not more effective in halting the oil from reaching the beach and then the ocean, and how we can hold those responsible accountable for their actions.
EDC staff has been engaged on multiple fronts, doing essential legal research and investigation and advancing regional, statewide, and federal solutions to ensure our region never again has to face this kind of devastation. As we have said from the beginning, this sort of spill is sadly inevitable. There is simply no risk-free way to develop oil and we need to prioritize transitioning away from polluting and dangerous fossil fuels. EDC's staff has been working to make this case while advocating for common sense steps to reduce risks until we get there. Here is a short list of some of the ways EDC has been engaging over the last month:
Statewide Action – Working with the California Coastal Protection Network, EDC was successful in convincing Governor Jerry Brown to reverse language from his oil spill Emergency Proclamation, which would have, for the first time ever, suspended the California Coastal Act. Had this action stood, the Coastal Act, arguably the most environmentally protective law in the country, would not have been enforceable for the spill response or any of the important coastal restoration work to come. Fortunately, on June 5th, after more than two weeks of intense work, lining up more than 40 organizations to stand together, the Governor changed course and the Coastal Act's authority was reinstated.

Oil Trucks in Santa Barbara County – After Plains All American's pipeline was shut down due to its devastating rupture, oil giant ExxonMobil sought emergency authority to load up almost 200 oil tanker trucks each day to drive crude through our region. EDC, our members and partners were quick to push back. Ultimately, EDC applauded the decision by the County of Santa Barbara to deny this request based upon unsubstantiated assertions that local residents would be harmed if the big oil company was unable to get their "product" to market.
Legislation – In the wake of this destructive spill, two of our statewide leaders have proposed important legislation. Of course EDC continues to be a sponsor of SB 788 which would close a legal loophole and stop a massive new coastal oil drilling project from threatening Point Conception. That bill has cleared the Senate and now must go through the State Assembly. In addition, State Senator Hannah-Beth Jackson has introduced SB 414 and Assemblymember Das Williams has come forward with AB 864, both of which EDC strongly supports. AB 864 is an oil spill prevention bill which would require the state to look at best preventative practices like better leak detection and automatic shut-down systems, and SB 414 is an oil spill response bill which would restrict the use of dangerous chemical dispersants and study best practices to ensure a faster and more efficient early response to the next spill. Stay tuned for ways you can help!
Public Oversight Hearing – Next Friday, June 26th, Senator Jackson and Assemblymember Williams will hold a joint oversight hearing in Santa Barbara to look at the causes and the response to the Plains All American Pipeline oil spill. I have been asked to speak on the environmental impacts of this spill which took place in a section of the Santa Barbara Channel so important and full of diversity that it is known as the Galapagos of North America. The hearing will take place at 2:00PM on the 4th floor of the County Administration Building at 105 East Anapamu Street in Santa Barbara. I hope you will join me.
Pipeline Safety Improvements – On June 9th EDC sent a letter to Congresswoman Lois Capps supporting her efforts to urge federal regulators to at long last finalize enhanced safety rules for oil pipelines and to offer specific recommendations for stronger safety measures to help prevent future spills. Specifically, we recommend an increased frequency of inspections, a requirement for automatic shutoff valves and leak detection technology, increased transparency and oversight for pipeline inspections, an increase in fines and penalties for malfeasance, as well as additional resources and staffing to ensure adequate inspections.
Community Choice Energy – EDC was proud to support our friends at the Community Environmental Council in their push to give our local communities a say in choosing clean, renewable energy with Community Choice Energy. Last week, EDC addressed the Santa Barbara County Board of Supervisors, urging funding for a feasibility study to bring this exciting new model to life in our region. The Supervisors authorized $400,000 toward the study which, when completed, will pave the way for a clean energy future.
Yes, a lot has happened in one month! And a lot will continue to happen, and we will continue to be at the ready! EDC is actively questioning the standards that have been set to define when a particular beach is clean enough. But regardless of how long this phase of clean-up operations will continue, with hundreds of people working daily to clean rocks by hand and to collect tar balls reaching beaches in Ventura County and beyond, our work will continue because we know that with a spill that reaches the ocean, only 10-15% of the oil is ever actually recovered. The rest either sinks, where it can be re-circulated to again land on beaches when storms hit, or spreads farther and farther, breaking down into smaller droplets, often attaching to plant life and becoming part of the food chain.
So while EDC will continue to push to ensure complete clean-up of the devastating Plains oil spill, we all need to focus on preventing future spills by advocating for cleaner energy, stopping new coastal and offshore drilling, and ensuring the highest level of environmental protection possible.
Tags: County Supervisors, Environmental Protection, Gas, Oil, Oil Response, Oil Spill, Pipeline, Plains All American Pipeline, Refugio Oil Spill, Santa Barbara, Santa Barbara Channel
Trackback from your site.