Staff
Owen Bailey
Executive Director
obailey@EnvironmentalDefenseCenter.org
Owen joined EDC in 2013 after almost ten years at Sierra Club, where he was initially focused on community and media outreach and grassroots organizing for their California coastal campaign. Here he worked alongside EDC on the successful campaign against a proposed Liquefied Natural Gas terminal in the Santa Barbara Channel. Owen then went on to develop and manage Sierra Club's entertainment industry outreach program on the way to becoming Director of Advancement overseeing eight Southwestern states. Owen has also been involved in several political campaigns, including serving as Director of Surrogate Operations for Senator Boxer's 2010 reelection effort.
Elizabeth A. Fisher
Staff Attorney
efisher@environmentaldefensecenter.org
Elizabeth interned with The Nature Conservancy before attending law school at Tulane University. She served as a student-attorney with Tulane's environmental law clinic and graduated with high honors and an environmental certificate. Hurricane Katrina struck during her first year, triggering an interest in climate issues. Elizabeth's professional experience is multi-coastal, including state-agency representation in hazardous waste cases in North Carolina and Clean Water Act litigation to protect Mississippi's unique bayous. She also has a strong research background from state and federal clerkships. Elizabeth is excited to return to the state of her birth and defend its natural resources.
Kristen Hislop
Marine Conservation Program Director
khislop@EnvironmentalDefenseCenter.org
Kristen joins EDC with experience as a California Sea Grant Fellow for the Channel Islands National Marine Sanctuary, coastal program analyst for the California Coastal Commission, and consulting researcher for Seafood Watch. Kristen earned her B.A. in geography from UCSB and her Master of Environmental Science and Management (M.E.S.M.), with emphasis in coastal and marine resources management, from the Bren School at UCSB. While studying at the Bren School, Kristen worked for EDC as an environmental advocacy intern, conducting research on the environmental impacts of oil rigs in the Santa Barbara Channel. Kristen enjoys hiking Santa Barbara trails, paddling along our coast, and exploring the Channel Islands.
Maggie HallStaff Attorney
mhall@EnvironmentalDefenseCenter.org
Before joining EDC, Maggie worked at Los Angeles Waterkeeper and was a law clerk at the Northwest Environmental Defense Center, Earthjustice, and Earthrise Law Center. She holds a J.D. from Lewis & Clark Law School and a B.A. from New York University. During law school, Maggie argued before Chief Justice John Roberts in the Advocate of the Year Competition, and was a member of the first place team in a national moot court competition. She has also co-authored an article in the Natural Resources Journal on Ninth Circuit administrative law. In her free time, Maggie enjoys stand up paddle boarding, hiking, travel, and yoga.
Linda Krop
Chief Counsel
lkrop@EnvironmentalDefenseCenter.org
Linda has worked at EDC as a staff attorney since 1989 and as Chief Counsel since 1999. Linda's specialties include fighting offshore oil and gas development, protecting natural resources, and preserving open space lands. Linda's successes include the unprecedented termination of 40 federal oil and gas leases offshore California, defeat of several specific oil drilling projects, and preservation of important areas for public access and ecological protection, including Hearst Ranch, Ellwood, Carpinteria Bluffs and Sedgwick Ranch. Linda represented the conservation community on the Channel Islands National Marine Sanctuary Advisory Council from 1998-2013, and teaches Environmental Law at UCSB.
Tara Messing
Staff Attorney
tmessing@environmentaldefensecenter.org
Tara graduated from the University of Maryland Carey School of Law with honors and a certificate in environmental law. She has a diverse environmental law background from interning with the largest litigating section of the U.S. Department of Justice, Environment and Natural Resources Division, to clerking with the Environmental Defense Center, among others. Prior to joining EDC staff in 2017, Tara practiced as a civil litigator in Santa Barbara, handling a variety of cases involving intellectual property, contract disputes, and employment law. She is thrilled to join the EDC team as the organization's mission aligns with her longtime commitment to protecting and preserving the environment.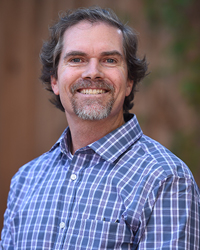 Brian Trautwein
Environmental Analyst & Watershed Program Director
btrautwein@EnvironmentalDefenseCenter.org
Brian grew up in Goleta beginning in 1970, attended local schools including UCSB, graduated with High Honors in 1990 and earned various accolades including the Environmental Studies Department's first Outstanding Alumni Award. Brian founded the Santa Barbara Urban Creeks Council in 1987 and served as the group's Executive Director until 1997. Brian received the statewide Outstanding Organizer Award after increasing the Council's membership from 150 to 3,000 in one year. A stream restoration manager and biologist, he was named California Trout's Streamkeeper. Brian has twice been recognized as a Santa Barbara Independent Local Hero before beginning his tenure at EDC.
Betsy Weber
Communications Director
bweber@EnvironmentalDefenseCenter.org
Betsy joined EDC in 2007 after working at the Wyoming Wilderness Association to protect and expand federal Wilderness Areas in her home state. She serves as the interface between EDC and the public by coordinating community outreach and education initiatives, along with EDC's array of public, media, and online communications. Betsy also conducts operations administration and event planning. She earned her B.A. in Anthropology from the University of California, Santa Cruz.