Trump's Plan for New Offshore Oil & Gas Drilling
Goal:

To prevent the first new or expanded oil lease offshore California since the 1969 Oil Spill

Year Started:

2018

Clients

Get Oil Out!, Sierra Club Los Padres Chapter, Environmental Defense Center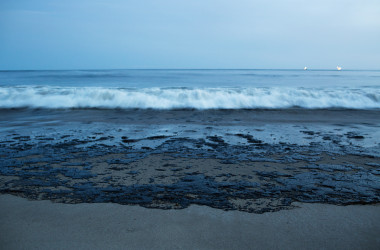 VICTORY
On January 4, 2018, the Trump Administration released a draft of its five-year plan for offshore oil and gas leasing, proposing to open up more than 90% of our nation's waters, including the entire California coast and Santa Barbara Channel. This was the first time the federal government proposed to open our coast to new lease sales since 1984, when Ronald Reagan was president. The administration's decision put the coastal resources of California at risk of future oil spills and the damaging impacts of climate change.
The California Current upwelling system is one of the top five most biodiverse and rich marine ecosystems in the world, providing a high level of unparalleled productivity that supports fisheries, tourism, and livelihoods. Most notably, the Santa Barbara Channel includes the Channel Islands National Marine Sanctuary and Park, as well as federal and state Marine Protected Areas. This area is also an important migratory route and feeding area for endangered blue, humpback, and fin whales, which are vulnerable to oil and gas drilling activities, ship strikes, seismic surveys, and oil spills.
EDC has been the lead organization fighting against risky oil practices for the past 40 years. We have continuously won the battle against irresponsible fossil fuel projects and have done so with the support of the people of California and our state leaders. Our communities recall all too well the catastrophic impacts oil had on our coastline after the 1969 and 2015 oil spills, and the Trump Administration's draft leasing plan was in direct opposition to the needs and wishes of those who live along the coast and depend directly on California's unparalleled coastal and marine resources. On behalf of our clients, EDC submitted comments opposing the plan and helped organize and advocate against this terrible proposal.
In January 2021, the Biden Administration released an executive order, placing a moratorium on new oil and gas leasing in federal waters. This effectively ended the Trump Administration's push for new offshore drilling and sets in motion a process by which the new administration will need to rethink offshore energy. A new five-year plan will need to be in place in 2022.