Green & Blue: A Coastal Celebration

The "do not miss" environmental event of the year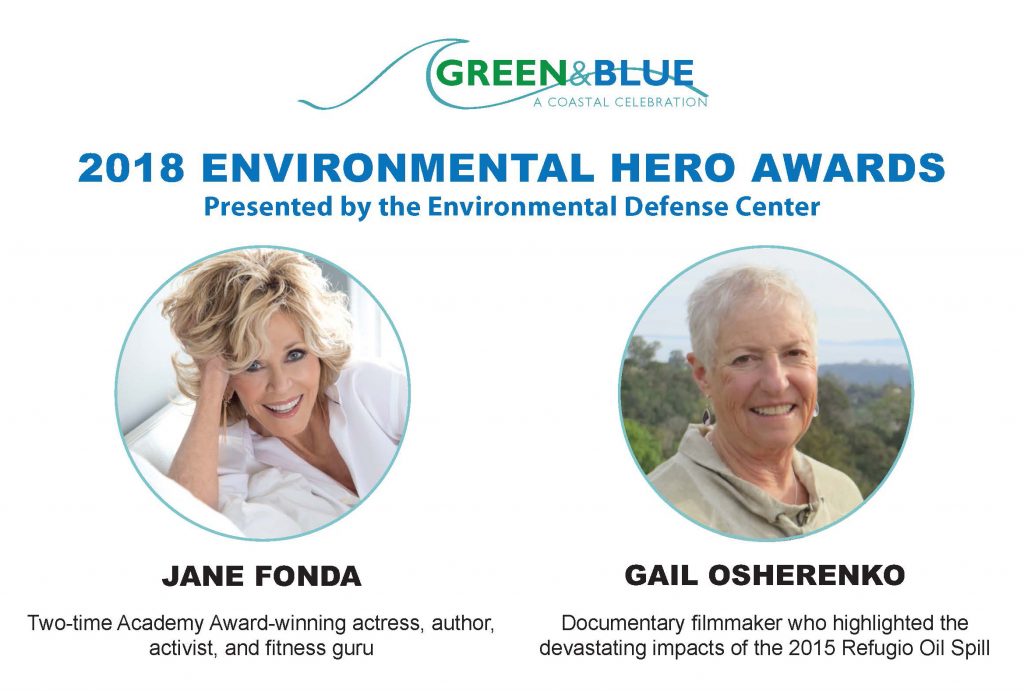 On June 3, 2018, EDC will hold our largest fundraiser of the year outside in the beautiful gardens of Rancho La Patera & Stow House in Goleta. More than 500 guests will enjoy exciting live and silent auctions, fabulous hors d oeuvres from Duo Catering, local wine and beer, and a short program. 
We are very excited to be presenting our 2018 Environmental Hero Awards to Jane Fonda, two-time Academy Award-winning actress, author, activist, and fitness guru, as well as Gail Osherenko, documentary filmmaker who highlighted the devastating impacts of the 2015 Refugio Oil Spill in BROKE. Get your tickets today!
WHEN: Save the date – June 3, 2018, 2:00-6:00 PM
WHERE: Rancho La Patera & Stow House
304 North Los Carneros Road, Goleta, CA
TICKETS: SOLD OUT!


Many thanks to our 2018 Green & Blue event sponsors!
Santa Cruz
Katy Allen
Deckers Outdoor Corporation
The Emmett Family
Susan Harris & Paul Junger Witt
Lee Heller
The Ojai Vineyard
Santa Ynez Vacation Rentals
Suzanne & John Steed
Santa Rosa
Advanced Veterinary Specialists
Amy & Glenn Bacheller
Goleta Valley Historical Society – Stewards of Rancho La Patera & Stow House
Helena & Gary Hill
Keller Rohrback Law Offices, LLP
Marborg Industries
Mullen & Henzell
Patagonia
San Miguel
Allen Construction
Susan E. Bower
Nancy Brown
Nancy Butler Francis & Richard Francis
Coastal Fund
Carolyn Cogan & Jules Zimmer
Jenny Cushnie & Dennis Allen
Hayward Lumber
Lisa & Jim Hammock
Arthur Kennedy
Law Office of Renee M. Fairbanks
Margaret Lazarus & Renner Wunderlich
Gloria & John McManus
NextGen Climate
Gail Osherenko & Oran Young
Rabobank
Ms. Jean K. Schuyler
Sea Forward Fund
Seavees
Signature Parking
Spark Creative Events
Judy & Jack Stapelmann
Lisa Stratton & Peter Schuyler
Tent Merchant
UFCW Local 770
Diane & Mike Wondolowski
Seyburn Zorthian & Marc McGinnes
San Nicolas
AIMdyn,Inc ; Adriana & Dr. Igor Mezic
Anchor Point IT Solutions
Judy & Bruce Anticouni
Vicky Blum & David Lebell
Boone Graphics
Melissa Bower
Marni & Michael Cooney
Jean & Dave Davis
Jill and Ronald Dexter
Fielding Graduate University
Fund for Santa Barbara
Ghita D. Ginberg
Betty & Stan Hatch
Patty Hedrick & Lansing Duncan
Tania Israel & David Landecker
Bernice James & Glen Mowrer
Lozeau Drury LLP
Janet K. McGinnis
Laura & Russell McGlothlin
Pamme Mickelson & Steve Windhager
Montecito Bank & Trust
Betsy & Charles Newman
Nancy Parker & Cindy Hawkins
Joan Pascal & Ted Rhodes
Debra & John Piot
Judy Pirkowitsch
Rincon Brewery
Kalia Rork, Realtor
The Honorable Susan Rose
Santa Barbara City College Foundation
Kate Silsbury
Gail & David Teton-Landis
Karin van Hoek, M.D. and David Niles
Anacapa
Sylvia Abualy
Ignacio Alarcon
Vicki & Joseph Allen
Anacapa Architecture
Lisa & Cameron Benson
Darlene Harper Bierig
Sandro Boos & Rodney Gould
Tina Boradiansky
Cynthia Brock
Jane Brody & Royce Adams
Lalla & Rinaldo Brutoco
The Bull Family
Laura Capps
Jan & Charles Clouse
Community Environmental Council
Haley & Hal Conklin
Margaret & Joe Connell
Matthea Cremers
Eileen Daley
Adrianne & Andrew Davis
Lydia Deems & William Prothero
Sylvelin Edgerton
EJ Harrison & Sons, Inc
Elizabeth & Jim Farnum
Mickey & Dick Flacks
Gina Gonzalez-Carbajal & Congressman Salud Carbajal
City Councilmember Gregg Hart
Supervisor Joan Hartmann & Jim Powell
Laurel & Mark Heintz
Drs. Ruth Hellier & Tim Cooley
Gail & Jay Hislop
Francesca Hunter
Nancy & Karl Hutterer
Hannah-Beth Jackson & George Eskin
Robin Jacobs & Marcos Vargas
Vijaya & Rao Jammalamadaka
Robert Janeway
Paul Kushnerov & Brad Hudson
Angie Swanson Kyriaco & James Kyriaco
Law Office of Marc Chytilo
Assemblymember Monique Limon
Sheila Lodge
Amanda Mardon & Mike Weissman
Sasha & Kevin McGibben
McGowan Guntermann
Stephanie Moret & Derek Booth
Hensley & James Peterson
Mandy & Jeff Phillips
Councilmember Kyle Richards & Eric Waldo
Riviera Smiles – Dr. Ana Martinez
Russell Radom
Santa Barbara Audubon – Darlene Chirman
Sierra Club, Los Padres Chapter
Jean Silva & Philip Seymour
Kathy Snow & Bendy White
Heather Stanford & Jim Salzman
Tom Stolpman
Neil Sullivan M.D.
Sunrun
Tangerenz
VCHP
Cean & Mike Weber
Supervisor Das Williams
Deborah Williams
Supervisor Janet Wolf
Zog Industries
Photo courtesy of Erin Feinblatt