Green & Blue: A Coastal Celebration
Green & Blue: A Coastal Celebration, is our biggest fundraiser of the year, taking place in the beautiful gardens at Rancho La Patera & Stow House in Goleta, CA. This event brings together around 500 guests from across the tri-county region. At Green & Blue we celebrate the many accomplishments this organization has achieved over our years and raise critical funds to ensure EDC remains strong to protect this region for those who love it now and those who will follow in our footsteps. Green & Blue will have a silent auction packed full of unique items, an exciting live auction, food and beverages, and a short program to honor our Environmental Hero, Patagonia, Inc.
We look forward to celebrating together.
WHEN: June 11, 2023, 2:00-5:30PM
WHERE: Rancho La Patera & Stow House, Goleta
SPONSOR OPPORTUNITIES:
We have a broad range of sponsorship opportunities with various levels of benefits.
INDIVIDUAL TICKETS: $125
EDC offers sliding scale tickets. If you are interested or have any questions please contact Venessa Hutchins by email or phone at 805-963-1622.
---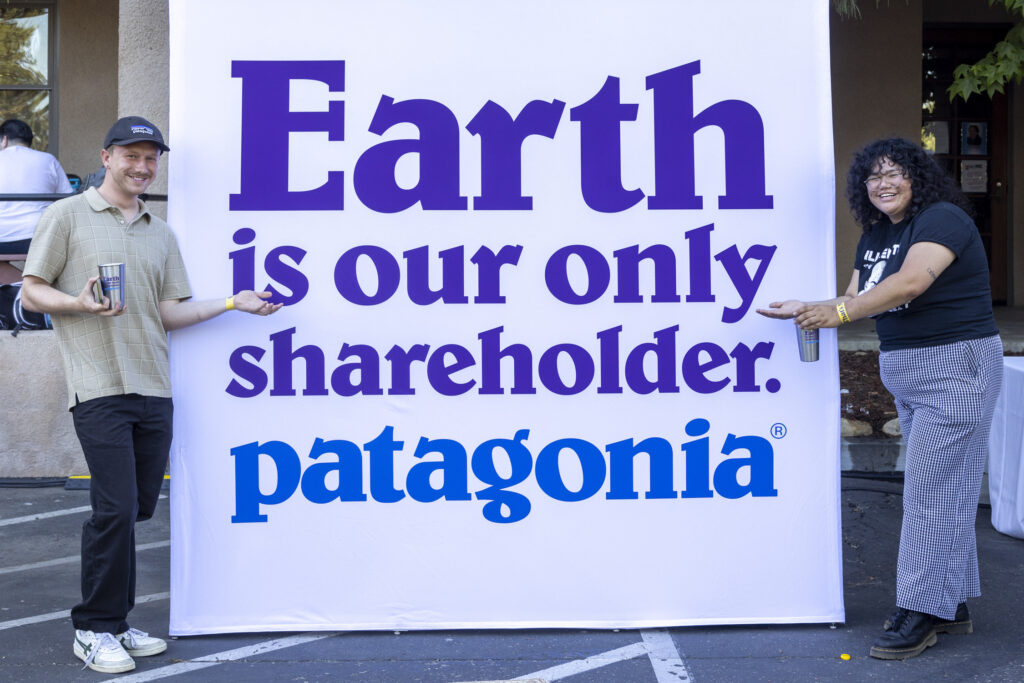 2023 ENVIRONMENTAL HERO AWARD
PATAGONIA, INC.
EDC is delighted to honor Ventura-based Patagonia for its longstanding commitment and action to protect nature and biodiversity, support thriving communities, and fight the climate crisis. Recently the company's owners announced they were making Earth their only shareholder, as the latest example of creating a new model for capitalism. As Patagonia says: "We're in business to save our home planet."
Patagonia CEO, Ryan Gellert, will accept the award at Green & Blue, followed by an open conversation between Ryan and Leah Stokes, UCSB Professor of Political Science and a leading expert in energy, climate, and environmental politics.
---
BIG THANKS TO OUR 2023 EVENT SPONSORS
Santa Barbara Channel
Goleta Valley Historical Society
Patagonia, Inc.
Schlinger Family Foundation
The Ojai Vineyard
Santa Cruz
Emmett Family
Gloria & John McManus
Patricia & Paul Bragg Foundation
Santa Rosa
Advanced Veterinary Specialists
Anacapa Architecture
El Gato Channel Foundation
Helena & Gary Hill
Marborg Industries
Montecito Bank & Trust
Mullen & Henzell LLP
Santa Barbara Company
Sun Pacific Solar Electric, Inc.
Suzanne & John Steed
Cean & Mike Weber
San Miguel
Amy & Glenn Bacheller
Melissa Bower
Julie & Paul Capritto
Marni & Michael Cooney
Gerry DeWitt
First Republic Bank
Lisa & Jim Hammock
Law Offices of Richard L. Francis & Associates
Los Padres Forest Watch
Mechanics Bank
Betsy & Charles Newman
Northern Chumash Tribal Council/Proposed Chumash Heritage National Marine Sanctuary
Gail Osherenko & Oran Young
Judy Pirkowitsch & Ameriprise Financial
Santa Barbara Botanic Garden
Jean Silva & Phil Seymour
Signature Parking
Judy Stapelmann
Lisa Stratton & Peter Schuyler
San Nicolas
Allen Construction
Ambient Event Design
Carol & Bob Bason
Vicky Blum & David Lebell
Boone Graphics
Ellen Bougher-Harvey & Friends
Cynthia Brock
Dick Flacks
Carla Frisk & Jeff Newton
The Fund for Santa Barbara
Anita Guerrini & Michael Osborne
Kimberly & Scott Herriman
Gail & Jay Hislop
HUB International Insurance/Steve Woodward
Senator Hannah-Beth Jackson (Retired) &
Judge George Eskin (Retired)
Vijaya & Rao Jammalamadaka
Keller Rohrback L.L.P.
David J. Landecker
Law Office of Marc Chytilo APC
Margaret Lazarus & Renner Wunderlich
Danny Lewin (in Loving Memory of Ann Benham-Lewin)
Sheila Lodge
Marc McGinnes Family
Bob Ornstein
Nancy Parker & Cindy Hawkins
Joni Pascal & Ted Rhodes
Rincon Brewery
Julie Ringler & Richard Powell
Riviera Smiles – Dr. Ana Martínez
Santa Barbara City College Foundation
Sea Forward Fund
Kathleen & Don Scott
Joel Shefflin
Linda Stiehl & Charles Forslund
Kate & Rob Tadlock
The Trautwein Family
Keith Zandona
Anacapa
Vicki & Joseph Allen
Anonymous
Anchor Point IT Solutions
Elena & Tim Anderson
Judy & Bruce Anticouni
Gerardo Ayala
Melissa & John Baffa
Patti & Steven Beal
Lisa & Cameron Benson
Biz in English Language and Cultural Services
Farfalla & E.J. Borah
Leslie Brtek & Catherine Lamberti
Jane Brody & Royce Adams
Jamie & Larry Bickford
C & I Consulting
CSU Channel Islands University Foundation
California Coastal Protection Network
Geri Ann & Gary Campopiano
Second District Supervisor, Laura Capps
Congressman Salud Carbajal
Lindy Carlson & Mary Ziegler
Catering Connection
Jan & Charles Clouse
CommonGround Landscape Architecture, Inc.
Community Environmental Council
Margaret Connell
Margaret & Bob Crocco
Kristi Curtis
Jennifer Cushnie & Dennis Allen
Eileen Daley
Adrianne & Andrew Davis
Jean & Dave Davis
Lydia Deems & Bill Prothero
Ann & Jeff Frank
Councilmember Eric & Julie Friedman
Tim Hade
Councilwoman Meagan Harmon
California State Assemblymember Gregg Hart
Joan Hartmann & James Powell
Hayward Lumber Company
Laurel & Mark Heintz
Lee Heller
Brad Hudson & Paul Kushnerov
Kathy & Jim Hurley
Nancy & Karl Hutterer
Bernice James & Glen Mowrer
Jeff Liang Photography
Goleta Councilmember Stuart Kasdin and Kate & William Kasdin
Bruce Kendall
KLJD Consulting – Human Resources Practice
Krop-Hedblom Family
Lori A. Lewis
Gretchen Lieff
State Senator Monique Limon
Stephen MacIntosh
Sharyn Main & Jim Hodgson
Sharon Landecker
Diana & Rick Longoria
Janis McCormick & Michael Stubblefield
Laura & Russell McGlothlin
Mesa Consulting, LLC & RW Ziegler
Stephanie Moret & Derek Booth
Deji Olukotun & Carolyn Johnson
Oniracom
Goleta Mayor Paula Perotte & Peter Perotte
Colette & James Phillippi
Valerie & David Powdrell
Carol & Allan Preusch
Pura Stainless
Russell Radom
Gail Rappaport & Peter F. Eastman
The Refill Shoppe
Goleta City Councilmember Luz Reyes-Martin
Goleta City Councilmember Kyle Richards & Eric Waldo
Kalia Rork, REALTOR
Mary Rose & Frank Artusio
Hon. Susan Rose
Cheri Runge
Santa Barbara Museum of Natural History
Greg Stamos & Dale Griffiths Stamos
Debra & Steve Schaefer
Evely Laser Shlensky
Sierra Club Santa Barbara-Ventura Chapter
Kate Silsbury
Kathy Snow & Bendy White
Marilyn & Tom Stolpman
Surfrider Santa Barbara Chapter
Angie Swanson-Kyriaco & Goleta Councilmember James Kyriaco
Janet Tran & Jeremy Tittle
Gail & David Teton-Landis
Trinity Episcopal Church
Rich Untermann
Sarah & Phillip Vedder
Allison & Lee Walker
Sally Warner-Arnett and G. William Arnett
Supervisor Das Williams
Janet & Harvey Wolf
Grace Wu & Ranjit Deshmukh
Mary Ellen & Dennis Wylie
Photo courtesy of Erin Feinblatt