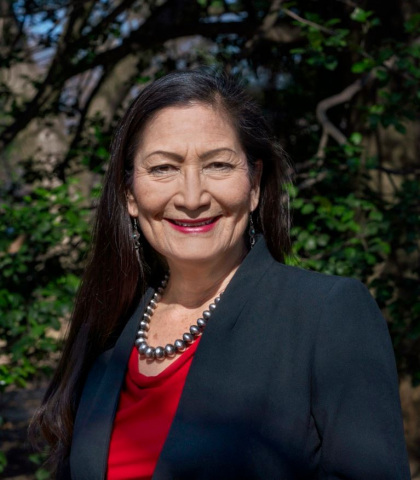 Recent Federal Actions Spark Positive Local Change to Address the Climate Crisis
By Linda Krop, Tara Messing, Rachel Kondor
Recent events playing out at the federal level will have major implications for the South-Central coast, especially in the arena of oil and gas development.  As discussed in this blog, the Administration has recommitted to scientific integrity, paused offshore leasing, and resumed the process for designating new national marine sanctuaries.  These actions could have a profound ripple effect in Santa Barbara County (County).  This blog will explore the direct impacts that the Biden Administration's recent actions may have on three cases handled by the Environmental Defense Center (EDC).
U.S. Department of Interior (DOI) Tackles Climate Change
On March 15, 2021, the Senate voted 51-40 to confirm Deb Haaland to lead the Department of the Interior (DOI).  As a member of the Pueblo of Laguna, Secretary Haaland's confirmation is momentous as she is the first Native American to serve as a cabinet secretary.  In her role, she leads the agency responsible for executing efforts to combat climate change and address environmental justice. 
Secretary Haaland wasted no time getting to work.  A mere month after her confirmation, she issued two Secretarial Orders (SO) to establish a Climate Task Force and strengthen scientific integrity, respectively. (SO 3399; SO 3398)  
In issuing these two new Orders, Secretary Haaland recognized "that signing Secretarial Orders alone won't address the urgency of the climate crisis," but she is "hopeful that these steps will help make clear that we, as a Department, have a mandate to act."
DOI's New Priorities May Hinder Efforts to Streamline Oil and Gas Permitting in the County
Secretary Haaland's recent actions demonstrate a commitment to tackling the climate crisis, identifying solutions to make our communities more resilient, and transitioning to a clean, renewable energy future.  Although the DOI's priorities have shifted drastically under the Biden Administration and Secretary Haaland's leadership, it has yet to be seen whether a plan to expedite oil and gas permitting in Santa Barbara County, at the expense of wildlife and plants protected under the Endangered Species Act (ESA or Act), will go forward.
Right now, the United States Fish and Wildlife Service (Service) is considering whether to finalize the General Conservation Plan for Oil and Gas Activities in Santa Barbara County (Plan).  The proposed Plan would streamline "take" permits for oil and gas projects that would harm or kill three species protected by the ESA: the California red-legged frog, California tiger salamander, and Lompoc yerba santa.
Oil and gas development can have a devastating impact on imperiled species by grading over habitat, polluting streams and groundwater, and killing them during construction, trucking, and spills.  Despite the alarming trend towards species extinction, the Plan would allow the permanent destruction of 675 acres of California tiger salamander habitat, at least 355 acres of California red-legged frog habitat, and 27.5 acres of habitat for the Lompoc yerba santa.  In addition to destroying habitat, oil companies could kill a certain number of tiger salamanders and red-legged frogs each year under the Plan.
Due to the hazards that oil and gas development present to the survival of wildlife and preservation of their habitats, on April 12, 2021, Congressman Salud Carbajal wrote to Secretary Haaland, requesting that the DOI/Service withdraw the Plan.  No decision has been made by the agency at this time.  EDC, on behalf of its clients, Sierra Club Los Padres Chapter, Santa Barbara County Action Network (SBCAN), and our members, continues to advocate for the withdrawal of this Plan to conserve these species and their habitats.
Biden's Pause on the Federal Fossil Fuels Program
Even before the Senate confirmed Secretary Haaland and just days after taking office, President Biden paused all new fossil fuel leasing on public lands and in offshore waters. (EO 14008; SO 3395) The purpose of the suspension was to give the new Administration time to examine fossil fuel and mineral extraction on public lands. Secretary Haaland, once confirmed, acknowledged that the federal fossil fuel leasing program is "fundamentally broken," so hitting the pause button on new leases was the right thing to do.
The Outer Continental Shelf Leasing Act (OCSLA) governs leasing of federal waters for oil and gas offshore. (43 U.S.C. §§ 1344, et seq.)  Under OCSLA, the Secretary must conduct a "needs assessment" to determine a schedule for leasing that "will best meet national energy needs" and, in doing so, she must strike a balance between the need for new leasing and "the potential impact of oil and gas exploration on other resource values…and the marine, coastal and human environments." (43 U.S.C. §§ 1344(a)(1)) 
No Need for New Oil Leasing
In its public statements, the DOI has acknowledged that new leases are not needed right now because a huge surplus of leases and approved permits to drill on public lands and offshore waters already exists, in part because the previous Administration conducted a fire sale on oil, gas, and mineral leasing.  Industry currently "has stockpiled millions of acres of leases" and is "sitting on approximately 7,700 unused, approved permits to drill." Some 26 million acres are under lease to the oil and gas industry onshore, of which more than half of those acres are unused and non-producing.  Offshore, the situation is even more stark, with over 9.3 million acres of unused and non-producing acres of public waters under lease. Even with all these unused permits in effect, the United States is currently a net exporter of oil.  New leases are clearly not necessary to meet national energy demand at the present time.
To that end, this spring, EDC submitted comments regarding DOI's pause in leasing and review of the federal leasing program, advocating that DOI refrain from issuing any new leases under the program, both offshore and onshore, and begin the process of reforming the program in a manner that balances the many important values of our public lands and waters. EDC also asked DOI to consider whether a real need for additional leases exists, given the huge surplus of undeveloped leases, the effects of climate change, and how renewables projects and energy efficiency can offset the need for additional drilling going forward. EDC further asked the DOI to consider permanently protecting lands and waters under its existing authorities.
Lifting the Prohibition on New National Marine Sanctuary Designations
EDC has long been an advocate for designation and expansion of National Marine Sanctuaries. The National Oceanic and Atmospheric Administration's Office of National Marine Sanctuaries (ONMS) oversees fourteen national marine sanctuaries that protect American's "most iconic natural and cultural marine resources." Four of these sanctuaries – Channel Islands, Monterey Bay, Cordell Bank, and Greater Farallones – are located offshore of California. Designation of a new sanctuary begins when a nomination is submitted for consideration and ONMS decides to add it to the inventory of candidate sites. (15 C.F.R. § 922.10(d))  Once accepted, a nomination is valid for five years. (79 FR 33855) 
On April 28, 2017, former President Trump issued an EO, "Implementing an America-First Offshore Energy Strategy," that prohibited ONMS from designating any new sanctuaries until and unless the proposal includes an accounting by the DOI regarding any potential energy or mineral resources within the proposed area. (EO 13795)
On Day One of the Biden Administration, however, the President issued an EO that, among other things, revoked former President Trump's April 28, 2017 EO. (EO 13990) This action authorized ONMS to consider nominations for new sanctuaries and resume the designation process.
New Hope for a New Sanctuary
In June 2015, the Northern Chumash Tribal Council submitted a nomination for a new national marine sanctuary.  The Chumash Heritage National Marine Sanctuary (CHNMS) was proposed to protect the culturally and biologically diverse coast from Gaviota to the southern boundary of the Monterey Bay National Marine Sanctuary. One of the primary purposes of the new sanctuary is to protect the unique indigenous cultural resources and heritage of the Chumash and First Peoples, including Point Conception, which is sacred to the Chumash as the Western Gate. Another primary purpose is to protect the internationally significant ecological transition zone that supports high biological diversity.
ONMS accepted the nomination for the CHNMS on October 5, 2015. Although former President Trump's EO placed a hold on the designation process, in 2020 ONMS agreed to renew the nomination for another five years. (85 FR 61935)
Thanks to President Biden's January 20, 2021 EO, ONMS is now free to move the CHNMS nomination from the inventory of candidate sites to a formal designation process. EDC and many other organizations, businesses, and municipalities look forward to supporting the Chumash during this process.
Conclusion
While the impacts of these recent federal actions are not entirely clear yet, the future looks brighter and EDC, on behalf of our clients, and along with our partners, will continue to advocate to protect the incredible natural resources in our region.
---
Linda Krop is Chief Counsel of the Environmental Defense Center.  Her work focuses primarily on energy and climate issues, as well as preservation of open spaces and wildlife. In addition to working at EDC, Linda teaches Environmental Law at the University of California, Santa Barbara. Linda received her J.D. from the Santa Barbara College of Law.
Tara Messing is a Staff Attorney at the Environmental Defense Center. Her work includes litigation and advocacy related to clean water, climate and energy, and open space and wildlife. Tara received her J.D. from the University of Maryland Francis King Carey School of Law with a certificate in Environmental Law.
Rachel Kondor is a new staff attorney at EDC. After working for environmental advocacy organizations after law school, Rachel spent more than a decade working for federal lawmakers, as senior legislative assistant on environmental and tribal matters to Congressman Raúl Grijalva, and later as a local representative of Congresswoman Lois Capps. She received her J.D. from Lewis and Clark Law School in Portland with a Certificate in Environmental and Natural Resources Law.
Trackback from your site.