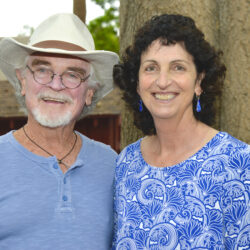 Celebrating 45 Years
1977: "Education is the first line of environmental defense. Legal action is the bottom line."
So began the Environmental Defense Center (EDC), a unique idea for its time, as our founders embarked on a mission to provide the community with the tools to address emerging environmental threats in the wake of the 1969 Santa Barbara Oil Spill. Marc McGinnes, EDC's founder and a local attorney, established EDC with a small team of attorneys, interns, and volunteers to empower other organizations to achieve their environmental protection goals. He recognized not only the threats to our region, but also the opportunities to address such threats and plan for a healthier future, thanks to the plethora of laws passed by Congress in response to the 1969 Oil Spill and other environmental disasters – laws such as the National Environmental Policy Act, Clean Water Act, Clean Air Act, Endangered Species Act, Coastal Zone Management Act, and many more. These laws were passed by a bipartisan Congress and signed by President Nixon. (Although President Nixon vetoed the Clean Water Act, the law enjoyed so much support that Congress over-rode the veto.) Similar laws were passed at the State level (including the California Environmental Quality Act and Coastal Act) and signed by Governor Reagan.
EDC founder, Marc McGinnes, pictured with current Chief Counsel, Linda Krop, at EDC's 45th Anniversary Celebration in our historic courtyard in downtown Santa Barbara.
Much has happened since then. Although environmental threats, including climate disruption, continue to grow, and bipartisan political support has waned, our communities remain strong, and EDC's work is more important than ever. After 45 years, our motto remains the same. We strive to educate the public, as well as decision-makers, so that actions are based on sound policy, objective science, and consideration of potential environmental consequences. We also litigate when necessary, to ensure that our bedrock environmental protection laws are enforced for the benefit of the public.
We have much to celebrate after 45 years, from our initial victories protecting Point Conception from a liquefied natural gas proposal and preserving important Chumash sites and public access at Hammonds Meadow, to our recent victories protecting the Santa Barbara Channel from offshore fracking and obtaining orders to restore endangered steelhead to our local rivers.
Over the past 45 years, EDC has represented almost 140 community and environmental organizations in hundreds of cases. We have saved more than 100,000 acres of open space that supports wildlife and public recreation, including Hearst Ranch, Fiscalini Ranch, Burton Mesa Chaparral, Sedgwick Reserve, Devereux and Ellwood Mesa, Douglas Family Preserve, Hammonds Meadow, Carpinteria Bluffs, Oxnard Shores, Ormond Beach, and Ahmanson Ranch.
We successfully fought off the powerful oil and gas industry by terminating forty offshore leases, stopping three liquefied natural gas projects, defeating several proposals for onshore and offshore drilling, preventing an increase in oil trains and tanker trucks, and blocking a new gas-powered coastal power plant.
We ensured protection for dozens of imperiled animals and plants, including keystone species such as the southern sea otter and southern California steelhead. We worked with the Channel Islands National Marine Sanctuary to increase protection for migrating whales, seabirds, and other wildlife.
A lot of our work has focused on protecting the health and safety of our communities, with particular focus on low-income and disadvantaged communities. We have worked alongside our clients and partners to ensure clean air and water, pesticide-free schools and parks, and a level playing field against polluting industries.
You can learn more about our achievements and partnerships by reading our case docket and this timeline that highlights a selection of our victories over our 45 years. As we celebrate our 45 years of accomplishments, we remain cognizant of all the work we have yet to pursue. At our recent anniversary celebration our Legal Fellow, Matthew Campa, inspired us to carry our work forward for the next 45 years!
Thank you to all of our partners and supporters who make our work possible!
Trackback from your site.