Venoco's Platform Holly Oil Expansion Scheme
Goal:

To prevent the first new or expanded oil lease offshore CA since the 1969 Oil Spill

Year Started:

2000

Clients

Get Oil Out!, Sierra Club, Los Padres Chapter, Citizens Planning Association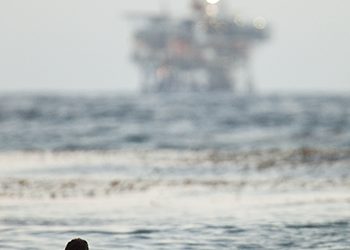 Once again, Venoco is pushing a proposal for the first new or expanded offshore oil lease in California waters since the 1969 Oil Spill. This risky project would require re-drilling and extending six wells from Platform Holly off the coast of UCSB and Ellwood Mesa.  The proposed new well bores would be slant drilled, each reaching more than four miles into a Coastal Sanctuary which currently prohibits such activities.
Not only is the aging Platform Holly already more than fifty years old, but this infrastructure was never designed for the practices Venoco proposes. This new burden and up to an additional forty years of use pose significant threats to endangered species, our marine environment, public recreation areas and nearby coastal communities.
Additionally, Venoco wants the oil from these new wells to be processed at the Ellwood Onshore Facility, a risky and equally aged industrial plant sited on land zoned for recreation near the Ellwood Mesa open space, Haskell's Beach, Ellwood School, and the Bacara Resort & Spa.
EDC is working to convince the California State Lands Commission to deny this risky project which brings unnecessary risk to our precious environment.